Academics
A Great Hearts education prepares students to be more than just proficient test takers, but rather, to become great-hearted leaders capable of success throughout their higher education and professional careers. We emphasize that in order for students to become great-hearted leaders they must share in a knowledge that is rooted in the classical liberal arts tradition.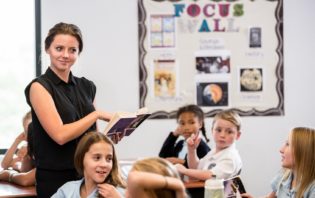 Curriculum
By offering a classical liberal arts curriculum, Great Hearts not only cultivates the hearts and minds of students in the pursuit of Truth, Beauty and Goodness, but also graduates great-hearted leaders prepared for success at the top colleges and universities worldwide.
View Curriculum
Special Education
Great Hearts believes that our classical liberal arts education should be accessible to all students. That is why we resist the unnecessary removal of students with special needs, but rather cultivate the hearts and minds of all students in an enriching classroom environment.
Special Education Details
Book & Supply Lists
Explore the book and supply lists for the 2022-2023 academic year.
View Supply Lists